La Farge Free Methodist Church
214 South Cherry Street
Map
La Farge, WI 54639
Phone:
608-625-6242
Email:
mwt.net@aljames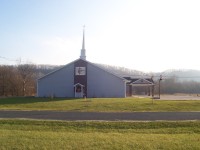 About Our Church
There is a church nestled in the middle of the Kickapoo Valley that cares about you. That church is the La Farge Free Methodist Church. We are contemporary in our worship but also balanced with a traditional style as well. We are a casual church but not when it comes to doctrine. We are here to meet your spiritual and physical needs. We are your church.
Statement of Beliefs
Free Methodist are among those who have experienced spiritual birth through faith in Jesus Christ. John Wesley, the founder of Methodism, described his own conversion by saying that when Christ came into his life, "My heart was strangley warmed".
A personal relationship with Jesus Christ & an obedient walk with Him characterize Free methodist Christians.
To learn more about our beliefs & doctrine go to;
www.nccfmc.org
or
www.freemethodistchurch.org